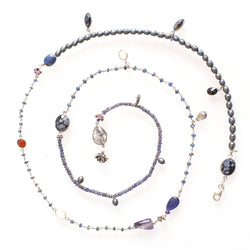 Adelina1001
Base silver necklace Black Snowflake
Silver,  natural stones,  high quality, handmade necklace
This delicate necklace was hand made using durable and high-quality materials, as well as natural semiprecious stones, black onyx, overflow of citrine crumbs, black spinel, hematite, tourmaline, amethyst, silver.
This chain allows you to adjust this necklace to different lengths.  The colorful natural stones on a chain sparkle and reflect all the beauty and elegance of this stylish jewelry. 
You can buy a base necklace and add collections Mix&Match to it.
This item does not come under our return policy. 
Dispatch in 30 days, pre-order now.