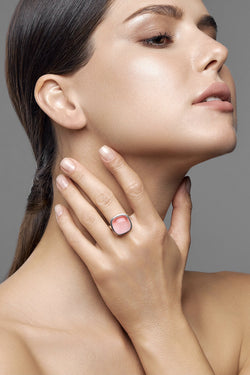 Jaipur Dreams Square Silver Ring
Authentic stones, silver, handmade,  high quality, dimensionless ring
The ring of the original form is decorated with a natural rose quartz.  It's just a celebration of color and form that will always be with you.  It is a great choice for bright and bold girls. 
Rose Quartz is the stone of universal love.  Rose quartz opens the heart, promotes love, self-love, friendship, and a sense of peace. 
Astrologers believe that the rose qurtz is best suited to Taurus and Libra. These zodiac signs will quickly feel the full magical power of the mineral. For other zodiac signs, the stone is neutral, and everyone can wear jewelry with it.
Return and refund are covered for this item. 
All return requests have to be initiated by the buyer within 5 days of receipt of their parcel.
Dispatch in 2 to 7 days

Shipping up to 20 days

Express Shipping is for an extra charge of 15 EUR